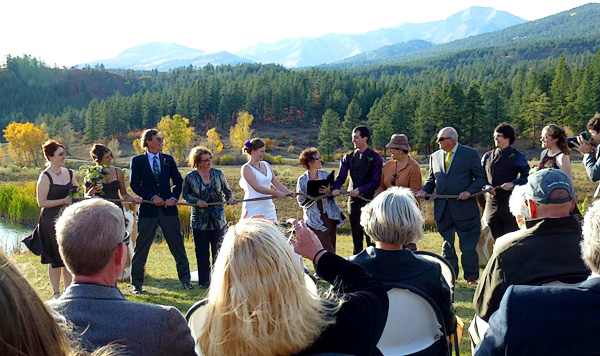 Welcome to "Songbird Celebrations", Colleen's Wedding and Celebrant Page!
Colleen is an ordained Marriage Minister, available to officiate both traditional and non-traditional weddings, and also any other celebrations or rituals where a celebrant would be desired.
Songbird Celebrations was "born" in 2012. After 30+ years of playing music for all types of ceremonies, including weddings and celebrations of life, Colleen was asked to officiate a wedding while serving as an interim minister at a Unity Church. This particular couple was having trouble finding an officiant who fit their particular needs and lifestyle. They wanted someone who was flexible, fun, and non-judgmental about their lives and the way they wanted to create their very personalized ceremony. Colleen was happy to oblige!
Following that first ceremony, many attendees commented on the beauty and freshness of it, and the natural and relaxed way in which Colleen shared this couple's love story and led them through their ceremony and vows to one another.
Since that time, Colleen has enjoyed working with many other couples to craft and officiate their ceremonies so they reflect each's own unique lifestyles and beliefs. She is especially thrilled to perform ceremonies in the LGBT community, as they have waited so long to be granted the same basic rights as others to wed and have legal, married status. The overflowing gratitude, love, and joyful celebration at these events is powerful and palpable to all who gather there!
One of the unique features of Songbird Celebrations is that Colleen can also provide music (vocals and guitar) for your ceremony or ritual, if desired.
If you would like to meet with Colleen to discuss your upcoming wedding or other celebration, please call 970-484-9600 or click on the contact link to send an email.